Please walk-in to TSO Bryan with red eyes, pink eye, or scratched & swollen eyes for immediate attention at our Bryan office.
Learn more +
Made to represent Texas. Contemporary fashion frames with the spirit and passion of Texas. Order online directly.
View the collection +
TSO Bryan eye doctors custom-design eye exams for children to control myopia and improve learning at our Bryan, Texas office.
Learn more +
YOUR TSO BRYAN EYE CARE CENTER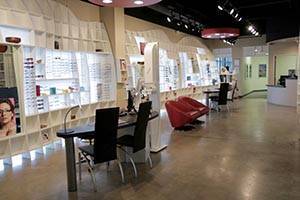 At the Bryan eye care center, our optometrists combine the latest technology and years of experience to give you thorough eye examinations and fashionable, affordable eyewear. We utilize state-of-the-art equipment including Optomap retinal imaging, corneal specular microscopy, optical coherence tomography, autorefraction/keratometry, computerized non-contact tonometry, visual fields testing utilizing frequency doubling technology, as well as the i-Point VTO System. Our Bryan eye care center was one of the first optometry offices to convert to all electronic medical records in order to better maintain and manage our patient records. Dr. Jon House and his staff of Bryan eye care professionals are ready and willing to help you see and look your best.
Dec 11, 2019
Smoking harms nearly every system in your body — including your eyes. Though we are all aware of the health...
SEE WHAT OUR PATIENTS HAVE TO SAY
I absolutely love TSO in Bryan. I wish I could give them more than just 5 stars!! They got me in right away when I was a new patient and take care of insurance/billing stuff with ease. Recently, I was able to make a same day appointment when I had a small infection in my eye and they took care of me right away. Dr. Cole and the rest of the staff are extremely friendly and genuinely care about their patients. I was referred by a friend and will recommend TSO to anyone!
- Claire P.
Dr. Bruton is great as always - personable and professional. I always feel like my eyes are well taken care of. Also, the team is friendly and efficient!
- Brady A.
Great experience! Doctor was great, staff was great!
- Hiytti H.
You can find less expensive care--but not better care. I have been using TSO since I got my first pair of contact lenses in 1973. Occasionally because there was not a location where we lived, I have had to try other eye care businesses, but I am very happy now to able to regularly go to the TSO in Bryan. They always make you feel like you are a person they care about rather than a number in line. You can trust their service and promises and their exam equipment is up to date and their technicians professional. Their optometrists make you feel like they care more about you and your eyes than just selling you glasses.
- Gma G.
This was my first visit at TSO Bryan, but I have been wearing glasses or contacts since childhood. My eye exam was very thorough and conducted in a professional manner, by the technicians and the Doctor. My visit involved some choices about treatment and the options were explained and questions answered. I am pleased with the experience and look forward to continuing care at their office. 👍
- Carolyn D.
Dr. Cole is certainly among the best doctors that one can find in College Station to give you an informative eye exam. I would recommend anyone who cares about her/his vision to see Dr Cole, and the experience would speak itself.
- Qian G.
Very friendly and knowledgeable staff
- Melissa M.
Bryan Optical Store Near You
Our Bryan optometrists have enjoyed building relationships with many of our patients and many times, entire families choose TSO for all their vision needs. There's no greater satisfaction for Dr. Jon House and the other doctors at TSO Bryan, than to provide vision care for a grandmother, son and granddaughter from the same family. Our philosophy is to embrace the trust that our patients put in our hands and treat them like our own family.