Please walk-in to TSO Bryan with red eyes, pink eye, or scratched & swollen eyes for immediate attention at our Bryan office.
Learn more +
Made to represent Texas. Contemporary fashion frames with the spirit and passion of Texas. Order online directly.
View the collection +
TSO Bryan eye doctors custom-design eye exams for children to control myopia and improve learning at our Bryan, TX office.
Learn more +
YOUR TSO BRYAN EYE CARE CENTER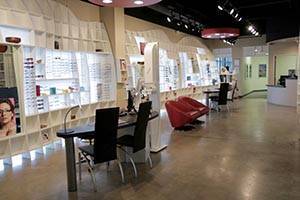 At the Bryan eye care center, our optometrists combine the latest technology and years of experience to give you thorough eye examinations and fashionable, affordable eyewear. We utilize state-of-the-art equipment including Optomap retinal imaging, corneal specular microscopy, optical coherence tomography, autorefraction/keratometry, computerized non-contact tonometry, visual fields testing utilizing frequency doubling technology, as well as the i-Point VTO System. Our Bryan eye care center was one of the first optometry offices to convert to all electronic medical records in order to better maintain and manage our patient records. Dr. Jon House and his staff of Bryan eye care professionals are ready and willing to help you see and look your best.
May 22, 2019
Do your kids need glasses in order to see clearly? Maybe they have a strong case of nearsightedness, perhaps they...
SEE WHAT OUR PATIENTS HAVE TO SAY
Always a good experience.
- Jim W.
... Dr Bloomberg was kind and answered all my concerns ... staff was also great ...
- Paul D.
Staff very professional and explains details of exam to where I could understand.
- Tracy S.
That's a 5 star group that works there not only do they handle there business correctly they also take the time to visit and get to know the people and make sure all of our needs are met. I would definitely recommend
- James W.
Very skilled and professional
- Kevin C.
Great staff. Dr Bruton takes time to explain everything.
- Nancy J.
Very detailed in exam and very friendly ❤️
- Sarah Y.
Bryan Optical Store Near You
Our Bryan optometrists have enjoyed building relationships with many of our patients and many times, entire families choose TSO for all their vision needs. There's no greater satisfaction for Dr. Jon House and the other doctors at TSO Bryan, than to provide vision care for a grandmother, son and granddaughter from the same family. Our philosophy is to embrace the trust that our patients put in our hands and treat them like our own family.