Please walk-in to TSO Bryan with red eyes, pink eye, or scratched & swollen eyes for immediate attention at our Bryan office.
Learn more +
Made to represent Texas. Contemporary fashion frames with the spirit and passion of Texas. Order online directly.
View the collection +
TSO Bryan eye doctors custom-design eye exams for children to control myopia and improve learning at our Bryan, Texas office.
Learn more +
YOUR TSO BRYAN EYE CARE CENTER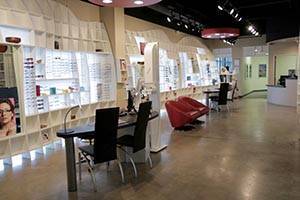 At the Bryan eye care center, our optometrists combine the latest technology and years of experience to give you thorough eye examinations and fashionable, affordable eyewear. We utilize state-of-the-art equipment including Optomap retinal imaging, corneal specular microscopy, optical coherence tomography, autorefraction/keratometry, computerized non-contact tonometry, visual fields testing utilizing frequency doubling technology, as well as the i-Point VTO System. Our Bryan eye care center was one of the first optometry offices to convert to all electronic medical records in order to better maintain and manage our patient records. Dr. Jon House and his staff of Bryan eye care professionals are ready and willing to help you see and look your best.
Oct 03, 2019
Good Eye Care Habits & Hygiene By practicing good eye care habits and hygiene, you can prevent many vision problems...
SEE WHAT OUR PATIENTS HAVE TO SAY
Amazing service as always! Fun, friendly, and very helpful staff! See you next year!
- Jamie R.
Dr. House was very thorough, knowledgeable, and informative. He took the time he needed to examine our daughter and never once rushed us through the process. He freely welcomed questions and made us feel very comfortable and confident with our decisions/treatment plan. Dr. House provided excellent service and was incredibly friendly. I highly recommend Dr. House for your eye care needs!
- C B.
Dr. Bruton is an incredible optometrist. She takes the time to get to know her patient and explains patient specific situations easily and concisely. I am very appreciative of her service and we are lucky to have her here in our community.
- Clinton B.
Great customer service. The doctor and technician were very informative and explained everything to me. Dr. Cole reviewed all the results of those test and answered all my questions thoroughly.
- Mary R.
Absolutely amazing, fast and quality service provided by the whole staff at TSO. Dr. Bloomingdale was spot on with my prescription and genuinely cared for my comfort. Laura w/ TSO was my ABSOLUTE FAVORITE!!! She was soooo sweet and answered every question with detail. She definitely made my whole appointment run as smoothly as it did. Love this staff and this place! -Tyler Moehlman
- Sid M.
Everyone at this office is so nice and accommodating! Dr. Cole was awesome and has a great sense of humor. I will definitely be using them as my regular eye care facility. Can't say enough good things about the entire staff!!
- Derek A.
Very courteous staff. Dr Bruton is great!
- Donnie V.
Bryan Optical Store Near You
Our Bryan optometrists have enjoyed building relationships with many of our patients and many times, entire families choose TSO for all their vision needs. There's no greater satisfaction for Dr. Jon House and the other doctors at TSO Bryan, than to provide vision care for a grandmother, son and granddaughter from the same family. Our philosophy is to embrace the trust that our patients put in our hands and treat them like our own family.